Illawarra Health and Medical Research Institute (IHMRI)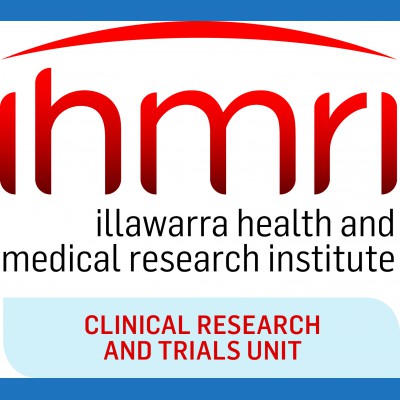 Illawarra Health and Medical Research Institute (IHMRI)
ADDRESS: Building 32 Level 1 Northfields Avenue, Wollongong NSW 2500

PHONE: 02 4221 4333
WEBSITE: Visit Website
IHMRI is an independent health and medical research institute who is partnered with the University of Wollongong and the Illawarra Shoalhaven Local Health District and has 2 fully equipped clinical research trial units (CRTU) .
The 1st CRTU is a purpose-built facility in IHMRI's headquarters located in building 32 at the University of Wollongong (UOW) where both investigator-initiated and industry studies are conducted.
The 2nd CRTU is based on level 1 of Lawson House at The Wollongong Hospital, also conducts investigator-initiated clinical research and commercially trials in collaboration with clinicians from the Illawarra Shoalhaven Local Health District.
Both CRTU's are fully equipped with:
Clinic/exam rooms with beds; privacy curtain;
Blood taking facilities
General vitals equipment BP/SPO2/Temp monitor/ECG
Pre-analytical lab with centrifuge; biosafety cabinet; -20 freezer and medical/vaccine fridge both with temperature monitoring and emergency back-up power.
Pharmacy with temperature monitoring; double lock system cabinetry and S8 safe.
Emergency trolley/crash cart.
Participant parking facilities
Comfortable reception area with tea/coffee facilities
Dedicated full time experienced Clinical Trial Coordinators/RN's with all necessary trial related accreditation (i.e. GCP, venepuncture and safe transport of biological samples by air)
Located at the UOW CRTU we have -80 freezer with 24/7 alarmed temperature monitoring and emergency power back-up, fully equipped commercial kitchen and file storage facilities.
No active clinical trials
JOBS (CURRENT OPEN POSITIONS)
Want access to more Site details?
Sponsors and CROs looking to choose Sites for their next clinical trial are encouraged to sign up to AustralianClinicalTrials.com. In doing so, you will get free access to any and all Site Selection Packages, ready for you to download. Curated by Sites themselves, all the information you need to know for selection is presented in an easy to read format, saving you time and money. Create an account, and become a part of the fastest growing clinical trials community today!